Sheffield Pub Guide - Complete Guide To Pubs In Sheffield
Sheffield Pub Guide is a comprehensive guide to the pubs in and around the city of Sheffield. Our pubs database is updated regularly both our team and by landlords themselves, therefore maintaining an up-to-date information centre.
Featured Public House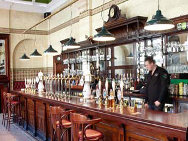 Sheffield Tap Bar opened on 5th December 2009 with 20 draught ales and over 250 bottled beers from around the world.

The bar offers the widest choice of beer sourced from across the globe, dispensed from 11 traditional cask handpulls and 12 continental swing handled taps, set against a backdrop of over 200 different bottled world beers.

Our premises are located within the Grecian architecture of Sheffield Midland Railway Station, accessed from either Platform 1b or Sheaf Street.
Latest Sheffield Pubs News
We have removed the Travellers Rest Inn pub, formerly of 20 Main Road in Holmesfield, as it has closed permanently.
Latest Pub Review
Sportsman Inn (Crosspool) reviewed by John Marsh on :
Visited the Sportsman pub today with my wife.

We both ordered mushroom starters, which when they arrived had obviously been re-heated. They were tough and cool. We sent them back and received a fresh starter. My main meal - beef burger - was totally inedible, tough and burnt. I left the burger and the chips.

The waiting staff were very good and no blame attached to them.

However, the management need to be aware that poorly cooked food should not leave the kitchen and should never be served to paying customers.

Also very disappointing that the only staff to show concern were the young waiting staff.

I had been told that the food at the Sportsman was not up to standard, I won't be eating there again.
10 Most Recently Updated Pubs