Sheffield Pub Guide - Complete Guide To Pubs In Sheffield
Sheffield Pub Guide is a comprehensive guide to the pubs in and around the city of Sheffield. Our pubs database is updated regularly both our team and by landlords themselves, therefore maintaining an up-to-date information centre.
Featured Public House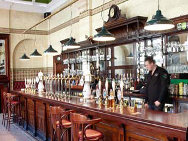 Sheffield Tap Bar opened on 5th December 2009 with 20 draught ales and over 250 bottled beers from around the world.

The bar offers the widest choice of beer sourced from across the globe, dispensed from 11 traditional cask handpulls and 12 continental swing handled taps, set against a backdrop of over 200 different bottled world beers.

Our premises are located within the Grecian architecture of Sheffield Midland Railway Station, accessed from either Platform 1b or Sheaf Street.
Latest Sheffield Pubs News
We have removed the Yorkshireman rock pub, formerly of 31 Burgess Street in Sheffield city centre, as it has closed. The venue has moved to the former Mulberry Tavern on Arundel Gate and we will add a new listing shortly.
Latest Pub Review
Phoenix Inn (Ridgeway) reviewed by P Rogers on :
Visited the Phoenix today, 7th August, with my family for a celebration meal.

Five in the party, skewer starter for one order wasn't good. And four members ordered beef roast for the main. Now on the menu it states pink. But there is pink and there is raw! One of the family could only eat the very outside edges of one slice of beef. Vegetables were hit and miss in either too soft or rock hard. Another wasn't able to eat the beef as it made them feel sick because it was so raw.

When I commented on this at the end when someone finally came to the table I was told that the beef is brought in precooked and that's just how it comes when it's sliced.

Won't be going there again unfortunately. That's the third time I've been and the food has been disappointing, but today was just a waste.

And in this current climate value for money is top of the list.
10 Most Recently Updated Pubs