Sheffield Pub Guide - Complete Guide To Pubs In Sheffield
Sheffield Pub Guide is a comprehensive guide to the pubs in and around the city of Sheffield. Our pubs database is updated regularly both our team and by landlords themselves, therefore maintaining an up-to-date information centre.
Featured Public House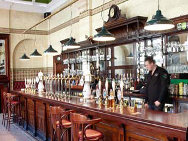 Sheffield Tap Bar opened on 5th December 2009 with 20 draught ales and over 250 bottled beers from around the world.

The bar offers the widest choice of beer sourced from across the globe, dispensed from 11 traditional cask handpulls and 12 continental swing handled taps, set against a backdrop of over 200 different bottled world beers.

Our premises are located within the Grecian architecture of Sheffield Midland Railway Station, accessed from either Platform 1b or Sheaf Street.
Latest Sheffield Pubs News
We have added a new listing for Extra Time Sports Bar & Grill at 60 Brown Street in Sheffield city centre. This new venue is an American-style sports bar, featuring 40+ high-definition screens.
Latest Pub Review
Prince Of Wales (Banner Cross) reviewed by Maggie Bramwell on :
I admit I did not make the right choice for my main meal yesterday evening. Panko chicken fine, but the linguine was awful - tasteless and overcooked. It should not have been on the plate. Surely chips or new potatoes served with a vegetable i.e. green beans would have made it a better meal.

My husband had the fillet steak, which he said was cooked to perfection.

The staff are brilliant; very polite and pleasant.
10 Most Recently Updated Pubs