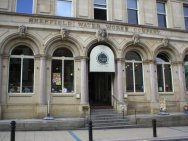 Sheffield Waterworks Company Public House
Previously called Lloyds No. 1 Cafe Bar.
General Information
J D Wetherspoon
No known awards
Pub Facilities
Real Ales
Cocktails
Beer garden
Smoking area
Car park
Disabled access
Disabled facilities
Children welcome
Dogs welcome
Card payments
Function room
Accommodation
Wi-Fi Internet access
Pub Entertainment
Background music
Sports on TV
Beer Menu (Powered By Untappd)
Old Growler
Style:
Porter - English
ABV:
5.00%
Brewery:
Nethergate Brewery
Last seen:
Abbot Ale
Style:
Bitter - Extra Special / Strong (ESB)
ABV:
5.00%
Brewery:
Greene King
Last seen:
Greene King IPA
Style:
IPA - English
ABV:
3.60%
Brewery:
Greene King
Last seen:
Farmers Belgian Blue
Style:
Winter Ale
ABV:
4.90%
Brewery:
Bradfield Brewery
Last seen:
Untappd is a new way to socially share and explore the world of beer with your friends and the world. Curious what your friends are drinking or where they're hanging out? Just check their profile where you can toast and comment on their beers!
Ready to start drinking socially? Get the Untappd app here!
1 Review of Sheffield Waterworks Company:
Add Your Review
News for Sheffield Waterworks Company: