Museum Pub, City Centre, Sheffield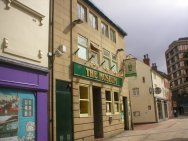 Nearby Pubs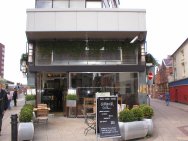 All Bar One
(0.01 miles)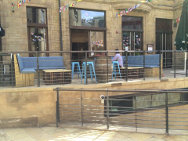 Bamboo Door
(0.03 miles)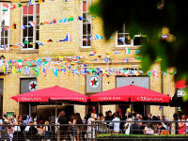 Cubana
(0.03 miles)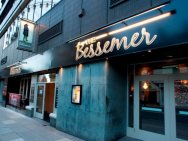 Bessemer
(0.04 miles)
Museum Public House
Large city centre pub located next to Orchard Square shopping centre and split over three levels. Serves food all day and has a well-stocked bar. Previously called the Hogshead, fully refurbished in February 2005 and re-named the Museum.
Visited Museum?
General Information
Chain/Brewery:
Greene King
Awards:
Opening Hours
Monday:
10:00 - 23:00
Tuesday:
10:00 - 23:00
Wednesday:
10:00 - 23:00
Thursday:
10:00 - 23:00
Friday:
10:00 - 00:00
Saturday:
10:00 - 00:00
Sunday:
10:00 - 22:30
Food
Food Served
Vegetarian Dishes
Walk-Ins Welcome
Food Service Times
Monday:
10:00 - 21:00
Tuesday:
10:00 - 21:00
Wednesday:
10:00 - 21:00
Thursday:
10:00 - 21:00
Friday:
10:00 - 21:00
Saturday:
10:00 - 21:00
Sunday:
10:00 - 21:00
Pub Facilities
Real Ales
Cocktails
Beer Garden
Car Park
Smoking Area
Disabled Access
Disabled Facilities
Children Welcome
Dogs Welcome
Debit/Credit Cards
Function Room
Accommodation
Wi-Fi Internet
Entertainment
Background Music
Sports On TV
Pool Table
Snooker Table
What's On The Bar (Powered By Untappd)
Phantasm
Style:
Pale Ale - New Zealand
ABV:
4.50%
Brewery:
Acorn Brewery
Last seen:
---
Untappd is a new way to socially share and explore the world of beer with your friends and the world. Curious what your friends are drinking or where they're hanging out? Just check their profile where you can toast and comment on their beers!

Ready to start drinking socially? Get the app here!
Museum Pub Reviews
Reviewed by Shaun on
People on the next table brought in a dog upstairs. I myself have a dog. Love dogs. Sat it on the chair and put its water bowl on the table for it to drink from. Member of staff knew it was there because she seemed to know the couple. The female staff member whose birthday it was the night before and didn't get in until 2 in the morning, drunk on Prosecco.
Reviewed by Valentina on
Tonight at 8:25pm we went to the Museum in order to have dinner, after reading that food would have been served 'til 9pm.

We asked if we could still have dinner and the answer we received was that the kitchen was already closed... at 8:25pm.

I warmly suggest the owner to update food serving time, in order to avoid costumers wasting their time going to the pub to have dinner after 8pm.
Reviewed by Mary on
Food was terrible. Smash instead of mashed potato and boil in the bag vegetables. Portion sizes are very small and not worth £8.50!
Reviewed by Deborah Cahill on
I hadn't been in this pub for quite a few years and was very pleasantly surprised when we visited it again the other week. It's very nice inside and the staff are very friendly and helpful. The food is fantastic and reasonably priced. Would definitely recommend it.
Write A Review
Anonymous reviews, reviews using nicknames or reviews sent from invalid email addresses will not be published.
Museum Pub News
The pub previously known to many as the Hogshead in Orchard Square is now called the Museum.
The advent of "designer glasses" has apparently made the theft of glasses from pubs even worse. Stella Artois and Guinness have both recently launched new style glasses, which have become a popular item to take home after a night out. The Hogshead (now Museum) in Orchard Square claims to lose over 20 glasses a week, mainly to students. Manager Mark Simmonite says that when students arrive at university they often forget to bring glasses, cutlery and ash trays with them. His pub seems to provide a place where all of these items can be "borrowed" and never returned. The Devonshire Cat on Wellington Street has a special "Yard of Ale" glass designed for Belgian Kwak beer. The beer costs £2.70 but you'll have to put down a £10 deposit for the glass because it's so popular that many customers are tempted to take it home with them!