Wortley Arms Pub, Wortley, Sheffield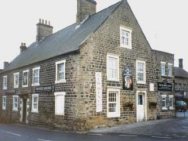 Wortley Arms Public House
The Wortley Arms was originally built as a coach house in 1753 and opened again in November 2006 after an extensive renovation. On the ground floor is the pub, where visitors will find locally brewed ales, fresh food and a log fire. Upstairs is Montagu's restaurant, named after Lady Mary Montagu, where diners can enjoy food inspired by influences from various regions across Europe.
Visited Wortley Arms?
General Information
Chain/Brewery:
Independent
Awards:
Opening Hours
Monday:
12:00 - 23:00
Tuesday:
12:00 - 23:00
Wednesday:
12:00 - 23:00
Thursday:
12:00 - 23:00
Friday:
12:00 - 23:30
Saturday:
12:00 - 00:00
Sunday:
12:00 - 20:00
Food
Food Served
Vegetarian Dishes
Walk-Ins Welcome
Food Service Times
Monday:
12:00 - 14:30
17:00 - 21:00
Tuesday:
12:00 - 14:30
17:00 - 21:00
Wednesday:
12:00 - 14:30
17:00 - 21:00
Thursday:
12:00 - 14:30
17:00 - 21:00
Friday:
12:00 - 14:30
17:00 - 21:00
Saturday:
12:00 - 21:30
Sunday:
12:00 - 17:00
Pub Facilities
Real Ales
Cocktails
Beer Garden
Car Park
Smoking Area
Disabled Access
Disabled Facilities
Children Welcome
Dogs Welcome
Debit/Credit Cards
Function Room
Accommodation
Wi-Fi Internet
Entertainment
Background Music
Sports On TV
Pool Table
Snooker Table
Wortley Arms Pub Reviews
Reviewed by Steve Moxon on
Selling what should be low-priced local beer (Bradfield Blonde) for £3.20 a pint, yet not noticing that it's noticeably "off" is not the way to entice customers to have a meal - especially when nobody had thought to put the heating on, a band sound-check in effect put the actual restaurant room out of bounds, and the flimsy single-sheet menu indicated that it was substantially over a tenner for so little as a burger.

For the manageress, or whoever she was, to respond deeply patronisingly and sarcastically when I mentioned that it was a poor pint - when I had courteously avoided boldly stating that it was "off" (or contaminated with cleaning fluid?) - rather took the biscuit.
Reviewed by Jacquie Berry on
Strongly recommended by a couple of friends, I took my father, son and daughter for lunch. Apart from the waitress, who was lovely, and very helpful, we were all completely disappointed.

We wanted steak, which for some reason wasn't on the menu and so chose gammon, which was quite dry and served with the drab and not (or so it seemed, fresh vegetables, apart from the chips). It was very expensive for what it was and nobody enjoyed it.

The next week I cooked the same meal for the family, which was far tastier, the gammon succulent and enjoyed far more by everyone. Certainly wouldn't go there again.
Write A Review
Anonymous reviews, reviews using nicknames or reviews sent from invalid email addresses will not be published.
Wortley Arms Pub News
Wortley Arms Launches New Menu:
The Wortley Arms pub on Halifax Road has introduced a brand new a la carte menu. The new menu features a mixture of time-honoured classics and contemporary dishes all created with fresh ingredients and locally sourced produce.

Choose from dishes such as belly pork & black pudding with tomato and apple chutney, chump of lamb with sweet potato and braised ox cheek with root vegetables.

The desert menu also features a selection of treats including dark chocolate and bourbon fondant and warm Bakewell tart.

The new menu is now being served in their first floor restaurant, Montagu's, from 7PM - 9PM Monday - Friday and 7PM - 9:30PM Saturday.

Sunday lunch is also served from 12PM - 3PM. To make a booking call the Wortley Arms on 0114 2888749.
The Wortley Arms is launching a monthly event to celebrate delicious food from all over the world.

For one night a month the pub will be doing something a little bit different to its usual menu and will host a regular evening dedicated to the many flavours, aromas and delights of cuisine from around the world.

Taking place on the first Thursday of the month, the event will launch on 7 August with "A Taste of Thailand". The menu will feature traditional Thai canapes for guests on arrival followed by a 3 course meal.

The Wortley Arms owner and master chef, Andy Gabbitas has been a professional chef for 29 years and his cooking skills have taken him all over the world and into the kitchens of some of the world's best known celebrities. It is Andy's own experiences and travels abroad that have inspired the new menus and he is sure his regular customers and perhaps a few new faces will enjoy sampling the array of dishes planned.