Wellington Pub, Shalesmoor, Sheffield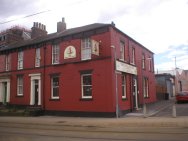 Nearby Pubs

Milestone
(0.09 miles)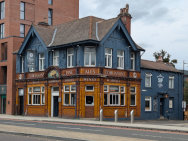 Ship Inn
(0.11 miles)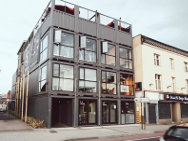 INC Bar
(0.13 miles)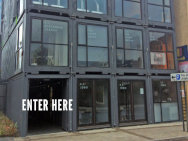 Nook The Bar
(0.13 miles)
Wellington Public House
Previously called the Cask & Cutler, the Wellington has great accessibility and is an excellent traditional pub to visit. You'll find a relaxing atmosphere and a great choice of real beer. Sheffield Pub of the Year 1996, 1999, and 2001.
Visited Wellington?
General Information
Chain/Brewery:
Neepsend Brewery
Awards:
Opening Hours
Monday:
15:00 - 23:00
Tuesday:
15:00 - 23:00
Wednesday:
15:00 - 23:00
Thursday:
15:00 - 23:00
Friday:
12:00 - 00:00
Saturday:
12:00 - 00:00
Sunday:
12:00 - 23:00
Food
Pub Facilities
Real Ales
Cocktails
Beer Garden
Car Park
Smoking Area
Disabled Access
Disabled Facilities
Children Welcome
Dogs Welcome
Debit/Credit Cards
Function Room
Accommodation
Wi-Fi Internet
Entertainment
Background Music
Sports On TV
Pool Table
Snooker Table
What's On The Bar (Powered By Untappd)
Wreckless
Style:
Pale Ale - American
ABV:
4.80%
Brewery:
RedWillow Brewery
Last seen:
---
Dema
Style:
Pale Ale - English
ABV:
3.80%
Brewery:
Neepsend Brew Co.
Last seen:
---
Steropes
Style:
IPA - English
ABV:
5.50%
Brewery:
Neepsend Brew Co.
Last seen:
---
Untappd is a new way to socially share and explore the world of beer with your friends and the world. Curious what your friends are drinking or where they're hanging out? Just check their profile where you can toast and comment on their beers!

Ready to start drinking socially? Get the app here!
Wellington Pub Reviews
Reviewed by Paul White on
One of my favourite pubs when visiting Sheffield. Brilliant atmosphere, good selection of ales, friendly staff and locals. Fantastic to sit round the fire in winter with a porter or stout. Long may it remain so!
Reviewed by Andy Hoole on
The Wellington is a friendly pub with always a good range of guest ales & beers brewed on site & I've never had a bad drink here yet.

Anyone who appreciates real ale needs to visit the Wellington.

Re: comments posted on 24th August 2015 from the lager drinker moaning about no lagers being served here, this is a "real ale" pub - geddit?

Suggest you find a nice pub up West Street where you can pay £4 a pint if you want!
Reviewed by Paul on
Went in and tried to get a drink but they didn't actually sell anything I wanted to drink. Went out and drank 6 pints elsewhere. I only wanted lager, which I have drunk in millions of pubs over the last 30-odd years.
Reviewed by Dave Etheridge on
A friendly pub offering a good selection of real ale from their own "Little Ale Cart Company" range of beers and a selection of other micro brewery ales.

The staff and regulars are friendly and you can very quickly find yourself in a conversation if you're on your own!

The courtyard beer garden is sheltered from the weather with plenty of benches and ash trays.

Situated on the Kelham Island circuit and practically next to the Supertram stop at Shalesmoor, it's an ideal pub to start or finish your night.
Reviewed by Tom on
Probably my favourite Sheffield pub, although it won't be to everyone's taste. It's very old fashioned with only 1 lager on tap. It does however have a good range of real ale and it's the home of Little Ale Cart brewery, whose beers are to be found only here and at the Wellie's sister pub in Worcester. Little Ale Cart do a lot of pale hoppy beers so if that's your taste you'll be happy here.

The staff are very knowledgeable and very friendly, as are the punters. As to the prices, I took some mates from Essex there a few months ago and they were astonished to find beers from their local brewer a pound cheaper then they could find them near the brewery! The Wellie may have its eccentricities but that's why we love the place.
Write A Review
Anonymous reviews, reviews using nicknames or reviews sent from invalid email addresses will not be published.
Wellington Pub News
Wellington Is CAMRA Pub Of The Month:
Local members of the Campaign for Real Ale have voted for the Wellington on Henry Street, Shalesmoor, as the winner of their February Pub of the Month award. These awards are designed to highlight pubs across our area that are serving good quality real cask ale in friendly and comfortable surroundings day in, day out. More information in the article below.

Shortly after Whitbread announced the proposed closure of the Exchange Brewery in early 1993 there was at least some good news on the Whitbread front - they had sold the Wellington on Henry Street to long standing Wakefield CAMRA members, Neil & Sheila Clarke. This became Sheffield's second genuine real ale freehouse, following on from the Fat Cat in 1981, and the following year was renamed the Cask & Cutler to distinguish it from the Wellington on Langsett Road (now the Hillsborough Hotel).

The "Bottom Wellie" may have once been the brewery tap for the nearby Don Brewery, before it was bought by Tennant Brothers in 1916 and closed. At the end of 2006, Neil & Sheila decided to fulfil their long held ambition of relocating to France, and sold the Cask & Cutler to Richard Appleton. Richard's connection with the pub goes back fifteen years, to when in the guise of Little Ale Cart Enterprises he supplied many of the beers, and he also owns the Dragon Inn, a real ale freehouse in Worcester. In January 2007 Gordon and Louise, who had been working at the Dragon, moved to the Cask as managers, where they are supported by long serving bar staff, Gary and Gerald.

Following an incremental programme of refurbishment of the two rooms, new signage was erected towards the end of 2007 confirming the reversion of the pub's name to The Wellington.

The next step was to complete commissioning of the adjoining brewery, which had been erected at the rear of the beer garden some years earlier. The first trial brews appeared in August 2008, since when some thirty beers under the Little Ale Cart Brewery name have been on the bar. To date all are pale and hoppy, with usually two available at any time, one of which will be 4% ABV. In addition there is the house beer, Millstone Baby Git and up to five guest beers, including a stout or porter and often a mild. As Richard is able to do beer swaps between his two pubs, beers from the West Midlands and West Country are often featured.

Another change is that the Wellington is now open all day, 12PM - 11PM, except Sunday when it opens 12PM - 3:30PM and 7PM - 10:30PM. However thankfully the policy of no jukebox, television or gaming machines has been retained.

Congratulations to Richard and his staff on gaining a well deserved Pub of the Month award for maintaining and where necessary improving one of Sheffield's top real ale outlets. The presentation will be on the evening of Tuesday 10th February from 8PM, all are of course welcome.
We have updated the details for the pub previously called the Cask & Cutler at Shalesmoor. The pub is now called the Wellington and is a favourite of real ale fans.