New Barrack Tavern Pub, Hillsborough, Sheffield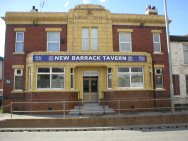 Nearby Pubs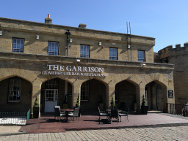 Guardhouse
(0.11 miles)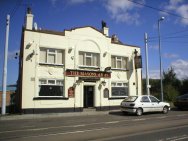 Masons Arms
(0.17 miles)
New Barrack Tavern Public House
The New Barrack Tavern is a renowned real ale pub located not far outside Sheffield city centre.

The pub has a large lounge area for general use where live bands perform at the weekend, a cosy tap room with TV and dart board, a pool room at the back overlooking Hillsborough Barracks, award-winning beer garden, and a brand new function room.

Due to its convenient location it is a popular meeting place for Sheffield Wednesday fans and visiting away fans attending Hillsborough, as well as for speedway fans prior to the Sheffield Tigers meetings.

In 2013 the New Barrack Tavern was proudly awarded the SIBA National award for "Best Local", among many other honours the pub has picked up.

Following a renovation to add a new bottle & cider room, the pub was awarded CAMRA Sheffield & District's "Cider Pub of the Year" 2019.
Visited New Barrack Tavern?
General Information
Chain/Brewery:
Kestrelwoods Inns Ltd
Awards:
2013 SIBA National award for "Best Local"; CAMRA Sheffield & District "Cider Pub of the Year" 2019
Opening Hours
Monday:
16:00 - 23:00
Tuesday:
16:00 - 23:00
Wednesday:
16:00 - 23:00
Thursday:
16:00 - 23:00
Friday:
12:00 - 00:00
Saturday:
12:00 - 00:00
Sunday:
12:00 - 20:00
Food
Pub Facilities
Real Ales
Cocktails
Beer Garden
Car Park
Smoking Area
Disabled Access
Disabled Facilities
Children Welcome
Dogs Welcome
Debit/Credit Cards
Function Room
Accommodation
Wi-Fi Internet
Entertainment
Background Music
Sports On TV
Pool Table
Snooker Table
What's On The Bar (Powered By Untappd)
Screech Owl
Style:
IPA - American
ABV:
5.50%
Brewery:
Castle Rock Brewery
Last seen:
---
Untappd is a new way to socially share and explore the world of beer with your friends and the world. Curious what your friends are drinking or where they're hanging out? Just check their profile where you can toast and comment on their beers!

Ready to start drinking socially? Get the app here!
New Barrack Tavern Pub Reviews
Reviewed by Paul White on
Have visited this great pub for many years and will be coming back in October.

Traditional setting, fantastic range of real ales, great food and good music. The hosts are friendly and up for a laugh. You are made to feel like a local. Keep it up!
Reviewed by Becca Price on
Visited the New Barrack Tavern on bank holiday Sunday and had a great time. Music was great, beer was great and the service was great. Keep it up.
Reviewed by Peter Cuthbert on
Been a visitor for about 5 years on Saturday nights. However called in the 10th November, had a couple of pints, got half way through the second and needed to go the gents - when I came back my beer had gone. Asked at bar if it had been cleared up - complete denial - mentioned it to landlord - not interested! Needless to say won't go in again!
Reviewed by James Farnsworth on
I was walking along Penistone Road when I happened upon a delightful pub called the New Barrack Tavern. I went in for a spot of lunch and a pint of the spectacular real ale. I was immediately greeted by the friendly landlord and lady. My food was served by a beautiful and efficient young lady by the name of Katie. I went outside and was impressed by the wonderful beer garden. In summary, excellent beer, food. A lovely family atmosphere. 5 stars
Reviewed by Mike Evans on
This is a great little pub. Specialises in real ales and always has a really good selection on tap and in bottles. Also a good range of draught continental lagers and draught ciders. On weekends they have live bands - Blues and rock mainly. There is music other nights of the week too with 'acoustic' solo artists. They do a wide range of hot pub grub - the all day breakfast is highly recommended.
Write A Review
Anonymous reviews, reviews using nicknames or reviews sent from invalid email addresses will not be published.
New Barrack Tavern Pub News
Members of the Sheffield & District branch of the Campaign for Real Ale have voted the New Barrack Tavern on Penistone Road, Hillsborough, as the winner of their April Pub of the month award. The pub of the month award is to highlight great local pubs that serve quality real ale in a friendly and comfortable environment.

From CAMRA Sheffield's "Beer Matters" newsletter:

With its splendid tiled Gilmour's frontage, the New Barrack Tavern is an impressive looking pub even before you cross the threshold. Reopened as a free-house in the mid 1990s, and briefly renamed the Hillsborough Barracks, it was acquired by Tynemill, the Nottingham based award winning pub company in 2002. On the left of the main entrance is a small taproom, and ahead is the main bar and adjacent lounge area, with a smaller no smoking room at the rear.

Without altering the essentially traditional character of the pub, gradual improvements have been made over the last three years, with restoration of the tiled flooring next in line. Improvements to the secluded beer garden are also planned.

On the bar there are 9 hand-pumps, with a tenth to be added shortly, serving Abbeydale Moonshine, Acorn Barnsley Bitter, and Autumn Pale from Tynemill's own Castle Rock Brewery, together with up to six ever-changing guest beers, including at least one other beer from Castle Rock. Guest beers are mostly from smaller independent breweries, and the pub operates Tynemill's "One over the Eight" reward scheme.

The New Barrack Tavern also stocks a wide range of draught continental beers, as well as a large selection in bottle, and an impressive choice of malt whiskies. Managers are Kevin and Steph Woods, who took over in October 2004, Kevin having previously been assistant manager at Castle Rock's brewery tap, the Vat & Fiddle in Nottingham.

A broader food menu has been introduced, catering for a wider range of tastes and pockets, with everything home cooked. The pub is open all day from 12 noon, and food is available lunchtimes and weekday evenings.

Wednesday nights there is a popular quiz with a gallon of beer for the winner and a cash jackpot. Thursday is games night with the New Barrack Tavern competing at darts, crib and dominoes in the Hillsborough Friendly League.

The pub is also noted for live music, particularly rock/blues alternate Fridays and every Saturday, with a jazz duo on the first and last Sunday of the month.

Choice, reasonable prices and friendly, helpful staff have made the pub consistently popular and together with their team of enthusiastic staff, Kevin and Steph are worthy winners of the Pub of the Month award for April 2006.

Join us for the presentation on Tuesday 4 April.