Dam House Bar and Restaurant Pub, Crookesmoor, Sheffield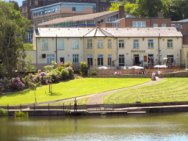 Nearby Pubs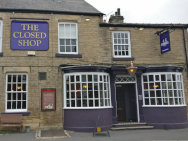 Closed Shop
(0.24 miles)
Dam House Bar and Restaurant Public House
The Dam House is set within the tranquil surroundings of Crookes Valley Park and offers fantastic food, superb drinks and a welcoming atmosphere. It prides itself on offering great value for money but maintaining a high quality menu, modern décor and always helpful, friendly staff.

When you visit Dam House you will find amongst relaxed surroundings lots of room to sit, as well as seven big TVs for you to watch all the latest sports.

If you love food, good value drinks and a warm welcoming environment then you will love Dam House.
Visited Dam House Bar and Restaurant?
General Information
Chain/Brewery:
Independent
Awards:
Opening Hours
Monday:
12:00 - 23:00
Tuesday:
12:00 - 23:00
Wednesday:
12:00 - 23:00
Thursday:
12:00 - 23:00
Friday:
12:00 - 23:00
Saturday:
12:00 - 23:00
Sunday:
12:00 - 23:00
Food
Food Served
Vegetarian Dishes
Walk-Ins Welcome
Food Service Times
Monday:
12:00 - 21:00
Tuesday:
12:00 - 21:00
Wednesday:
12:00 - 21:00
Thursday:
12:00 - 21:00
Friday:
12:00 - 21:00
Saturday:
12:00 - 21:00
Sunday:
12:00 - 21:00
Pub Facilities
Real Ales
Cocktails
Beer Garden
Car Park
Smoking Area
Disabled Access
Disabled Facilities
Children Welcome
Dogs Welcome
Debit/Credit Cards
Function Room
Accommodation
Wi-Fi Internet
Entertainment
Background Music
Sports On TV
Pool Table
Snooker Table
Dam House Bar and Restaurant Pub Reviews
Reviewed by Ben Anderson on
We went to Dam House for Sunday lunch.

First impressions were spoilt by the smell of floor cleaner in the bar area. The staff also seemed slightly overwhelmed by a large wedding party which took up most of the bar and the restaurant on one side of the bar.

We had pre-lunch drinks on the patio at the back, which is a lovely setting. When we asked about our 2PM table we were initially told they were not serving food until 3PM due to the wedding party. When we reiterated that we had a booking we were told we would be dining at the other end of the bar in a separate area. This area was light and spacious with a good view of the park.

Service during the meal was somewhat slow and the staff needed prompting for glasses (sent back twice as dirty), butter, condiments etc... The wine we chose off the limited wine list was not available. However the substitute we chose was very good. The quality of the Sunday roast was also very good. The kitchen seems to be the most competent part of the operation.

We asked for dessert menus, but after 30 minutes we gave up on waiting and went to the bar to pay. We were then told the card machine was not working so we couldn't pay. One of our party was offered a lift to the nearest cash machine and we paid in cash. For the inconvenience the manager gave us £25 off the bill and a free bottle of wine.

All in all an experience spoiled by poor service and management front of house. I appreciate they had a large wedding party, but this is no excuse for poor service for non-wedding diners. However the quality of the food was very good and well priced.
Write A Review
Anonymous reviews, reviews using nicknames or reviews sent from invalid email addresses will not be published.
Dam House Bar and Restaurant Pub News
Sheffield City Council are to allow former Sheffield Wednesday footballer Carlton Palmer to open his Dam House Bar and Restaurant on Mushroom Lane and serve drinks until 1:30AM. Local residents had objected to the late license but council officers agreed a number of compromises with the bar and the license was granted.
Historic Sheffield restaurant Dam House reopened recently after being destroyed by fire many years ago. Now called Dam House Bar and Restaurant, the venue is owned by former Sheffield Wednesday footballer Carlton Palmer and boasts a head chef with Michelin stars to his name
Dam House Bar and Restaurant Pub Special Offers
Food Promotions every Monday
A La Carte Menu - 3 courses for £15
Food Promotions every Tuesday
A La Carte Menu - 3 courses for £15
Food Promotions every Wednesday
A La Carte Menu - 3 courses for £15
Food Promotions every Thursday
A La Carte Menu - 3 courses for £15