Dove & Rainbow Pub, City Centre, Sheffield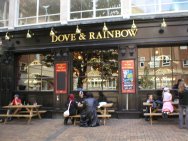 Nearby Pubs

Three Cranes Hotel
(0.06 miles)

Cavell's Cafe Bar
(0.06 miles)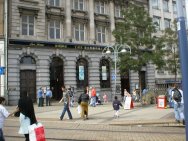 Banker's Draft
(0.07 miles)

Hen & Chickens
(0.12 miles)
Dove & Rainbow Public House
The Dove & Rainbow pub is located at Hartshead Square in Sheffield city centre.
Visited Dove & Rainbow?
General Information
Chain/Brewery:
Punch Taverns
Awards:
Cask Marque
Opening Hours
Monday:
12:00 - 00:00
Tuesday:
12:00 - 00:00
Wednesday:
12:00 - 00:00
Thursday:
12:00 - 00:00
Friday:
12:00 - 00:00
Saturday:
14:30 - 00:00
Sunday:
14:30 - 00:00
Food
Pub Facilities
Real Ales
Cocktails
Beer Garden
Car Park
Smoking Area
Disabled Access
Disabled Facilities
Children Welcome
Dogs Welcome
Debit/Credit Cards
Function Room
Accommodation
Wi-Fi Internet
Entertainment
Background Music
Sports On TV
Pool Table
Snooker Table
What's On The Bar (Powered By Untappd)
Dove And Rainbow
Style:
Pale Ale - English
ABV:
4.00%
Brewery:
Joshua Tetley & Son
Last seen:
---
Belgian White
Style:
Wheat Beer - Witbier
ABV:
5.40%
Brewery:
Blue Moon Brewing Company
Last seen:
---
Budweiser Budvar B:ORIGINAL / Czechvar B:ORIGINAL
Style:
Pilsner - Czech
ABV:
5.00%
Brewery:
Budějovický Budvar
Last seen:
---
Untappd is a new way to socially share and explore the world of beer with your friends and the world. Curious what your friends are drinking or where they're hanging out? Just check their profile where you can toast and comment on their beers!

Ready to start drinking socially? Get the app here!
Dove & Rainbow Pub Reviews
Reviewed by Scott Guest on
With its recent renovation, the Dove & Rainbow, a preference of mine for a good long time now, has become a much better rock pub.

Recent additions include the removal of 'goth corner', with which the stage has been extended in its place. Also a fully refurbished bar and floor area have meant the pub looks a lot nicer, but keeps to its roots of a very friendly bar staff, well priced drink and good rock music.

All listeners of rock are welcomed warmly in the pub with the variation of metal, classic, grunge and just about every other type of rock music available as a listener of the music.

Live acts are no stranger to the pub, recent live acts include a large range of different styles of music as well. It was especially nice to see Decimate with their pantera-like heavy metal music being played, and led by their 12 year old guitarist who can make any grown man who's been playing for 12 years want to hang up his guitar, he IS that good.

The inclusion of the new beer garden at the Dove & Rainbow is a very welcome addition to coincide with the new smoking ban. This means that smokers can enjoy the music just as much as the none-smokers, as the music is very much audible from the beer garden.

The men's toilets have gone through a refurbishment, which has added a lot to the pub.

Any rock enthusiast should take a look at the pub. Got any particular song you would like to hear? If they have it, they will play it upon request.

All in all the best rock pub in Sheffield, surpassing the Nelson by leaps and bounds due to its honest and somewhat more... real feel about it.
Write A Review
Anonymous reviews, reviews using nicknames or reviews sent from invalid email addresses will not be published.
Dove & Rainbow Pub News
Dove & Rainbow voted Sheffield CAMRA pub of the month

Local members of the Campaign for Real Ale have voted the Dove & Rainbow in Sheffield city centre the winner of their February 2008 Pub of the Month award.

Following just over a year of new management, the Dove & Rainbow is a much-improved pub. Much of the decor remains the same, as do the wide variety of customers, which are as diverse and pleasant as the ales which are served at the bar.
Camerons Strongarm is now a regular feature, along with Black Sheep Bitter, Wychwood Hobgoblin, John Smiths Bitter and Wells Bombardier Bitter. Guest beers are also a strong feature.

Some physical changes have been made to the pub by the new management however, with a minor refit, which included the construction of a live music stage and DJ box inside, and a well-used smokers area at the rear outside.

A basic but tasty lunchtime food menu is available, and for the more adventurous Pot Noodles are available at all times (with the Bombay Bad Boy I'd recommend a strong hoppy beer with a citrussy finish!)

Looking ahead, a microbrewery is planned for the cellar to produce a house beer for the pub, and an excellent programme of live music continues to be offered on the stage, the future for the Dove & Rainbow certainly looks bright!

On Tuesday 12th February join us at the Dove & Rainbow from 8:30PM when we present Jason 'Goldenfleece' Leaver, Dawn Gunther and the staff with their well-deserved Pub of the Month award for February 2008, and celebrate the fruit of all their hard work in revitalising a fairly unique city centre real ale pub.

The evening will be shared with the Dove's regular Tuesday night event Angelic Fruitcake, with DJ Starr Green playing Indie, Rock and Punk music.

The Dove & Rainbow can be found at Hartshead Square in Sheffield city centre at the end of Campo Lane, or through the alley next to Pizza Hut on High Street!
We have updated the details for the Dove & Rainbow pub in the city centre.
Dove & Rainbow Pub Events
Live Entertainment every Monday
Starts at 21:00.
DJ every Tuesday
Angelic Fruitcake @ The Dove & Rainbow

Starts at 20:00. Playing alternative rock and indie.
DJ every Wednesday
Dead Nightclub Night @ The Dove & Rainbow

Starts at 20:00. Playing classic rock.
Live Entertainment every Thursday
Starts at 21:00.
DJ every Friday
Rock Weekenders @ The Dove & Rainbow

Starts at 19:00. Playing rock and metal.
DJ every Saturday
Rock Weekenders @ The Dove & Rainbow

Starts at 19:00. Playing rock and metal.
Live Entertainment every Sunday
Starts at 21:00
Dove & Rainbow Pub Special Offers
Drinks Promotions every Monday
All day, every day offers @ The Dove & Rainbow

Cocktail jugs for only £6

Doubles and splashes for £2
Drinks Promotions every Tuesday
All day, every day offers @ The Dove & Rainbow

Cocktail jugs for only £6

Doubles and splashes for £2
Drinks Promotions every Wednesday
All day, every day offers @ The Dove & Rainbow

Cocktail jugs for only £6

Doubles and splashes for £2
Drinks Promotions every Thursday
All day, every day offers @ The Dove & Rainbow

Cocktail jugs for only £6

Doubles and splashes for £2
Drinks Promotions every Friday
All day, every day offers @ The Dove & Rainbow

Cocktail jugs for only £6

Doubles and splashes for £2
Drinks Promotions every Saturday
All day, every day offers @ The Dove & Rainbow

Cocktail jugs for only £6

Doubles and splashes for £2