Wagon & Horses Pub, Chapeltown, Sheffield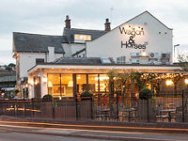 Nearby Pubs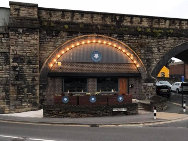 Chapeltown Tap House & Gin Bar
(0.04 miles)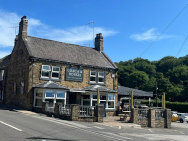 Coach & Horses
(0.06 miles)

Escape
(0.11 miles)

Prince Of Wales Inn
(0.13 miles)
Wagon & Horses Public House
Historic pub in the heart of Chapeltown, now a J D Wetherspoon establishment serving food and real ales.
Visited Wagon & Horses?
General Information
Chain/Brewery:
J D Wetherspoon
Awards:
Cask Marque
Opening Hours
Monday:
08:00 - 00:00
Tuesday:
08:00 - 00:00
Wednesday:
08:00 - 00:00
Thursday:
08:00 - 00:00
Friday:
08:00 - 01:00
Saturday:
08:00 - 01:00
Sunday:
08:00 - 00:00
Food
Food Served
Vegetarian Dishes
Walk-Ins Welcome
Food Service Times
Sorry, we do not have the meal times yet.
Pub Facilities
Real Ales
Cocktails
Beer Garden
Car Park
Smoking Area
Disabled Access
Disabled Facilities
Children Welcome
Dogs Welcome
Debit/Credit Cards
Function Room
Accommodation
Wi-Fi Internet
Entertainment
Background Music
Sports On TV
Pool Table
Snooker Table
What's On The Bar (Powered By Untappd)
Heineken
Style:
Lager - Pale
ABV:
5.00%
Brewery:
Heineken
Last seen:
---
Guiding Star
Style:
Dark Ale
ABV:
4.50%
Brewery:
Acorn Brewery
Last seen:
---
Shine On
Style:
Blonde Ale
ABV:
4.00%
Brewery:
Milestone Brewery
Last seen:
---
Farmers Belgian Blue
Style:
Winter Ale
ABV:
4.90%
Brewery:
Bradfield Brewery
Last seen:
---
Sleepy Badger
Style:
Stout - Oatmeal
ABV:
4.50%
Brewery:
Little Critters Brewing Company
Last seen:
---
Untappd is a new way to socially share and explore the world of beer with your friends and the world. Curious what your friends are drinking or where they're hanging out? Just check their profile where you can toast and comment on their beers!

Ready to start drinking socially? Get the app here!
Wagon & Horses Pub Reviews
Reviewed by Steve on
Had a meal in here Saturday 22/10/2016 with my wife and son.

Ordered a pint of Ruddles, no Ruddles.

Asked for a pint of Abbot Ale, the barmaid who I think was the manager, put a flat pint on the bar that was hazy. When I complained she said that the sprinkler was missing.

The orange juice and ginger ale were fine for my wife and son.

After a couple of sips of the flat beer I took it back to the bar asked for a pint of John Smith's. Not my tipple, but this pub is useless with real ale.

The pub was empty except for a few larger drinkers but it took 30 minutes for our meals to arrive.

The piri chickens were cold on the inside, probably warmed from the fridge in the microwave.

The staff don't ask customers in this pub if everything's OK because they get that many complaints. I saw a waitress walk past so I asked if these meals should be served with coleslaw. She walked away and came back with a some coleslaw made with red cabbage?

The meal and drinks are poor quality and prices higher than the local competition.

Wetherspoon's used to be the best, but do not take complaints.
Write A Review
Anonymous reviews, reviews using nicknames or reviews sent from invalid email addresses will not be published.
Wagon & Horses Pub News
Wagon & Horses Added:
We have added a new listing for the Wagon & Horses pub at 2 Market Place in Chapeltown, which is a J D Wetherspoon pub and serves food and real ales.