Fox & Duck Pub, Broomhill, Sheffield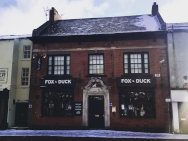 Nearby Pubs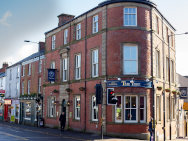 York
(0.03 miles)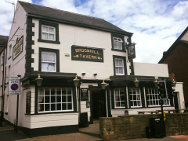 Broomhill Tavern
(0.04 miles)

Blues
(0.04 miles)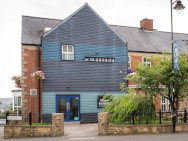 Bloomery
(0.04 miles)
Fox & Duck Public House
A family-run pub in Broomhill, Sheffield. Great offers, live Sky & BT Sport, free high speed WiFi and bring in your own food!

Four real ales and two scrumpy ciders available, all for £3 or less. Abbeydale Brewery Moonshine only £2.30 before 7PM.
Visited Fox & Duck?
General Information
Chain/Brewery:
Independent
Awards:
Cask Marque
Opening Hours
Monday:
12:00 - 23:00
Tuesday:
12:00 - 23:00
Wednesday:
12:00 - 23:00
Thursday:
12:00 - 23:00
Friday:
12:00 - 01:00
Saturday:
12:00 - 01:00
Sunday:
12:00 - 23:00
Food
Pub Facilities
Real Ales
Cocktails
Beer Garden
Car Park
Smoking Area
Disabled Access
Disabled Facilities
Children Welcome
Dogs Welcome
Debit/Credit Cards
Function Room
Accommodation
Wi-Fi Internet
Entertainment
Background Music
Sports On TV
Pool Table
Snooker Table
Fox & Duck Pub Reviews
Reviewed by Marianne on
Terrible place... dirty little pub. Toilets smell and bar staff would rather chat to "friends" than serve other members of the public! It's like they have no idea of running a pub. Better suited to a B&B - less customer contact required.

Avoid!
Reviewed by E Thomas on
If there was a 'Worst Pub in Britain Guide' the Fox & Duck in Broomhill, Sheffield, would be a very strong contender to take the top award.

My husband and I had arranged to meet our 2 daughters there for a drink before going on for a meal. I went to sit down whilst my husband got the drinks. He pointed to a table in the window so I went there. The chairs didn't look particularly inviting, as two out of the 4 has tears in them and were covered in grey duct tape to hide other tears.

A gentleman - no, sorry an elderly male - who had entered the same time as us came over and went to sit down on the chair next to me. I politely explained that it was taken. He then went to sit in one of the others at the table, so I explained that they were also taken, as my daughters would be along shortly. He stood there for a good 10 seconds staring at me and made me feel very uncomfortable. He then went to look for another seat. There were very few people in the pub and plenty of spare tables but he made this appear like a Herculean task.

My husband came and joined me with the drinks and this prompted the aforementioned male to go and speak loudly to the bar staff about reserved seats. I'd had enough by now and told my husband we were moving to another table. He immediately went to sit in the seats we'd vacated.

My daughters arrived in about 10 minutes and went to the bar where they were the only ones waiting. At first they were totally ignored, but after a while one of the males deigned to tell the female member of staff in an offhand manner to serve them. After serving them, my elder daughter took the drinks over to the table and my younger daughter stood at the bar with a £20 ready to pay. She was completely ignored again and my other daughter had to come back from the table to pay.

So much for Yorkshire hospitality.
Reviewed by Danny O'Connell on
I spent a few days in Sheffield last week and visited a few pubs in the Broomhill area. This was my favourite because of the bar staff, who very, very friendly. I visited on Sunday 14/3/2010 and there was a free pub quiz taking place.
Write A Review
Anonymous reviews, reviews using nicknames or reviews sent from invalid email addresses will not be published.
Fox & Duck Pub News
Fox & Duck Updated:
We have received an update from the Fox & Duck pub in Broomhill and it now has a complete listing.
Fox & Duck Voted CAMRA Pub Of The Month:
The Pub of the Month award is designed to highlight local pubs that are serving good quality real ale in a comfortable and friendly environment day in, day out, and is voted for by local CAMRA members who drink in these pubs. Winners go through into the branch Pub of the Year competition.

The April 2009 winner is the Fox & Duck in Broomhill, a comfy pub with a good atmosphere and a nice range of beers. It's owned by the Student Union but everyone is offered a very warm welcome.

Below is a few words about the pub written by John Beardshaw, a regular in pubs in the area and long serving CAMRA volunteer.

There are six pubs in Broomhill all serving real ale. Each pub is different so what make the Fox and Duck CAMRA's Pub of the Month? There are no complaints about food because customers can bring their own between 11AM and 7PM, using the pub's plates, cutlery and condiments.

John and Linda Hull took over the pub on 28th September 1987 have earned it a regular place in the National good Beer guide. There are usually six real ales and one traditional cider to chose from, two or three guest beers every week, and two from local breweries. In one year there are about 200 different guest beers with their pump clips making an attractive display around the walls.

Originally it was a two-roomed pub and converted to it present open plan format in the 1980's and extended to the shop next door more recently. There is an outdoor drinking area at the back, which is tidy and has shrubs in raised beds.

Broomhill is well served by bus the routes are 40,51,52, 80 and 120 so come along to the presentation night on Tuesday 14th April where you can join in with the celebrations.
The Fox & Duck pub in Broomhill has been granted a late license despite much opposition from local residents. The pub, popular with large numbers of nearby students, can serve alcohol until 1AM Friday and Saturdays as well as on certain public holidays, and until Midnight Sunday to Thursday. Residents living near the pub had complained to councillors of litter, noise, vomit and nuisance already attributed to late night drinkers at the pub.
Residents of student-area, Broomhill, have objected to an application made by the Fox & Duck pub to extend its licensing hours. Dozens of local residents have written to Sheffield City Council's licensing board to ask for the late license to be denied because they already suffer at the hands of drunken students each night and an extension would escalate the problem into the early hours. The licensing committee are due to come to a decision shortly.
Fox & Duck Pub Events
Quiz Night every Sunday
Pub quiz every Sunday from 9PM.