Harley Hotel Pub, City Centre, Sheffield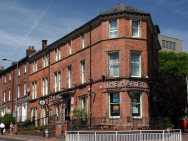 Nearby Pubs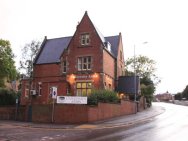 University Arms
(0.10 miles)

Harrisons 1854
(0.14 miles)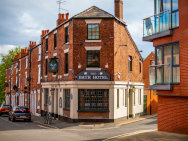 Bath Hotel
(0.15 miles)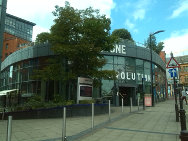 Revolution Vodka Bar
(0.19 miles)
Harley Hotel Public House
The fun loving, hip shaking home of legendary live music, innovative club nights, and the Twisted Burger Company.

Our burgers are absolutely banging, and you will always have a good time at The Harley. Come and join the party.
Visited Harley Hotel?
General Information
Chain/Brewery:
Independent
Awards:
Opening Hours
Monday:
07:30 - 04:00
Tuesday:
07:30 - 04:00
Wednesday:
07:30 - 04:00
Thursday:
07:30 - 04:00
Friday:
07:30 - 04:00
Saturday:
09:00 - 04:00
Sunday:
09:00 - 02:00
Food
Food Served
Vegetarian Dishes
Walk-Ins Welcome
Food Service Times
Monday:
08:00 - 21:00
Tuesday:
08:00 - 21:00
Wednesday:
08:00 - 21:00
Thursday:
08:00 - 21:00
Friday:
08:00 - 21:00
Saturday:
08:00 - 21:00
Sunday:
08:00 - 16:00
Pub Facilities
Real Ales
Cocktails
Beer Garden
Car Park
Smoking Area
Disabled Access
Disabled Facilities
Children Welcome
Dogs Welcome
Debit/Credit Cards
Function Room
Accommodation
Wi-Fi Internet
Entertainment
Background Music
Sports On TV
Pool Table
Snooker Table
Harley Hotel Pub Reviews
Reviewed by Chazza on
What a great pub. Their burgers are fantastic, and they have £2 drinks until Midnight. Definitely a younger crowd in the evening, what with being so close to the university and being situated at the top of West Street, but during the day I find it very pleasant.
Reviewed by Steve on
Stayed at the Harley Hotel when U2 were in town and was pleased with the place, we even got parked right outside the door and it only cost a few quid. We went looking for bars in town after the gig but decided to get back to the hotel, and pleased we did, open 'til 2AM, and a decent pint, and a few sambucas. Breakfast was excellent for how cheap the hotel is, and I've stayed in Hiltons etc... where is isn't that good.

All in all a great hotel for a stay in Sheffield, the tram and a bank right outside. Don't be fussy about the rooms, after all they have a bed toilet and shower and that's all you need. We're going back in a few weeks and definitely staying there.
Write A Review
Anonymous reviews, reviews using nicknames or reviews sent from invalid email addresses will not be published.
Harley Hotel Pub News
Harley Gets A New Twist:
From the start of February, the Twisted Spoon - a brand-new cafe inspired by the classic British greasy spoon, but with more than a touch of the US deli-diner thrown in for good measure - will be open at the Harley, on Glossop Road.

Serving up a stripped-down menu featuring simple, hearty, home-made food, the Twisted Spoon will be open for business six days a week, and will adapt its menu to fit the climate, with seasonal specials and hand-picked ingredients.

As well as the basics, there'll be the option to upgrade your fodder for a swankier alternative; so the lowly full English, one of the Harley's menu staples for as long as we remember, will also be available in a 'gourmet' version, complete with home-made speciality sausages, posh bread and other accoutrements.

Elsewhere, you'll find the usual suspects like budget soups, burgers (their triple-cooked chips are a particular talking-point) and pies, all served with a choice of home-made pickles and chutneys. Look out for details of their launch party this month to blag yourself some free samples.
Trouble flared at the Harley Hotel in Sheffield city centre on 6th July when a drinker was "glassed" in the face. The 25-year-old required stitches after the attack, which happened at around 2AM. Police are appealing for witnesses.
We have now got complete details for the Harley Hotel pub in Sheffield city centre.
Harley Hotel Pub Events
Harley Live every Monday
The best up and coming bands perform live.
DJ every Thursday
Soul Graffiti - hip-hop, heavy soul, broken-beat and rrum & bass. 10PM - 2AM. £2 entry.
DJ every Friday
1st Friday: Trust - electro and retro indie. 10PM - 3AM. £2 entry.
2nd Friday: Club Pony - electro/ new wave. 10PM - 3AM. £2 entry.
3rd Friday: Whilst other girls did their make up - Sheffield's hottest female DJs. 10PM - 3AM. £2 entry.
4th Friday: No Uniform - electro/motown/indie/reggae. 10PM - 3AM. £2 entry.
DJ every Saturday
1st Saturday: Thirsty Ear - reggae, hip-hop and drum & bass. 10PM - 3AM. £2 entry.
2nd Saturday: Hang the DJ - electro, clash, pop, glitch, breaks, techno. 10PM - 3AM. £2 entry.
3rd Saturday: Wall of Balls - funk and hip-hop. 10PM - 3AM. £2 entry.
4th Saturday: Natural Shy - breakbeat, funk and soul 10PM - 3AM. £2 entry.