Pub Reviews In Sheffield
If you'd like to review a pub, we'll add it to the Sheffield Pub Guide web site. All you have to do is click on the link below and fill in one simple form!
The views and opinions expressed below are those of the reviewer and are not endorsed or necessarily shared by Sheffield Pub Guide.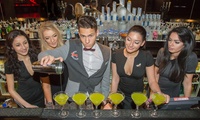 Min 6 and up to 15 customers can learn to mix cocktails during this group masterclass with a glass of bubbly and a departing shot
More reviews: